Best Pre Workout For Men: Top 8 Most Effective Options In 2023
Last updated

·
We quickly realized that finding the best pre workout for men is far from easy. That's because by performing a simple online search, you stumble upon hundreds, if not thousands, of products to choose from.
By looking at these products, you'll find that each product has its own set of ingredients and dosages. Every product will yield different benefits and results.
Ideally, you'll want to get your hands on a pre-workout for men that can boost your workout from multiple angles. You want your energy, pumps, power, and focus optimized as much as possible.
If you don't want to spend hours researching and comparing the different products, continue reading as we show you our top 8 best pre workout for men.
Best Pre Workout For Men: The 8 Most Effective Products For Sale

1st Place

: Wrecked

2nd Place

: Legion Pulse

3rd Place

: Wrecked Enraged

4th Place

: Pre JYM

5th Place

: Ghost Legend

6th Place

: Pre Kaged

7th Place

: PEScience Prolific

8th Place

:

 

Genius Pre
Taking a quality pre workout can be a game-changer for your workouts. But as we previously mentioned, you will need a product that includes highly effective ingredients and proper dosages.
But don't worry. You won't have to put any time or effort into finding the right product - we've done that for you!
We've compiled a list of the best pre workout for men based on several crucial criteria. That includes ingredients, effectiveness, reviews, taste, and doses.
We won't hold you up any longer; let's check out our selection of the best pre workout for men!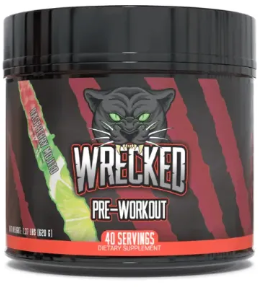 Active Ingredients

: L-Citrulline (8000mg), Hydromax™ (4000mg), Beta Alanine (3500mg), Betaine Anhydrous (3000mg), Malic Acid (3000mg), Agmatine Sulfate (1500mg), L-Tyrosine (1500mg), Alpha GPC (600mg), Lion's Mane Mushroom (600mg), Himalayan Pink Salt (500mg), Caffeine Anhydrous (250mg), N-Phenethyl Dimethylamine (250mg), Theobromine (150mg), Di-Caffeine Malate (100mg), Black Pepper Fruit Extract (10mg), Rauwolscine (1mg)

Effects

: Long-Lasting Energy, Focus, Muscle Pumps, Power, Endurance

Flavors

: Blue Razz, Orange Burst, Raspberry Mojito, Bomb Popsicle, Rainbow Burst, Sour Gummy, Peach Rings

Price

: $49.95

Servings Per Container

: 40
Wrecked takes the top spot on our list of best pre workout for men. It's the best option because it delivers everything you can imagine - intense energy, laser focus, and skin-tearing pumps.
When you consume Wrecked, you can expect a boost in performance that will propel your workouts to a whole new level.
The secret to Wrecked's effectiveness lies in its unique formula. It contains a total of 16 different ingredients, adding up to a serving size of over 30 grams.
These ingredients work synergistically to optimize your physical and mental performance, enabling you to push past your limits and achieve exceptional results.
But don't just take our word for it – over 4500 positive reviews from satisfied users validate the effectiveness of this pre-workout for men.
Curious to hear about their experiences? Click here to read their stories and discover why Wrecked reigns supreme among the competition.
In summary, Wrecked stands out due to its ability to enhance every angle of your training session. Its carefully crafted formula, outstanding value, and positive customer feedback solidify its position as the best pre workout for men on the market.
Maximizes energy, focus, & pumps

Uses 16 powerful ingredients

Every ingredient is dosed optimally

Available in multiple flavors

High value (40 servings)

Backed by 4500 positive reviews
More expensive than other pre workouts

Sells out frequently due to high demand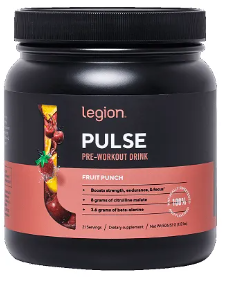 Active Ingredients

:

 

L-Citrulline DL-Malate 2:1 (8000mg), Beta Alanine (3600mg), Betaine Anhydrous (2500mg), Caffeine Anhydrous (350mg), L-Theanine (350mg), Alpha GPC (300mg)

Effects

: Energy, Focus, Strength, Endurance

Flavors

: Fruit Punch, Grape, Green Apple, Mojito, Arctic Blast, Blue Raspberry, Blueberry Lemonade, Cherry Limeade, Sour Candy, Tropical Punch, Watermelon

Price

: $44.99

Servings Per Container

: 20
Coming in second is Legion Pulse, another excellent product that we consider among the best pre workout for men.
It was designed to help you achieve maximum performance during your workouts. It is a popular choice among fitness enthusiasts and athletes due to its unique blend of ingredients that improve energy, focus, and endurance.
Legion Pulse is a natural pre workout free from artificial sweeteners, colors, and flavors. This means you can feel confident in what you put into your body, knowing you are not consuming any unnecessary chemicals or additives.
Furthermore, Legion Pulse has received positive feedback from a large number of users. Many individuals have reported improved focus, increased energy, and enhanced performance during their workouts.
This positive reputation is a testament to the effectiveness and quality of the product.
Overall, Legion Pulse Pre Workout is a highly effective, natural, and safe pre workout that'll help you get the most out of your gym sessions.
Improves entire workout performance

All-natural pre-workout

Science-backed and effective ingredients

Backed by thousands of positive reviews

More than 10 flavors to pick from
Limited amount of pump ingredients

Each container has just 20 full servings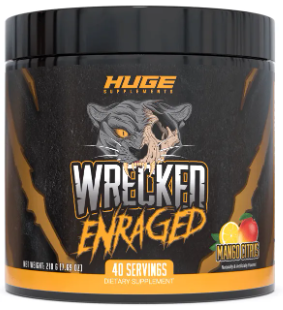 Active Ingredients: Beta Alanine (4000mg), Alpha GPC (1000mg), N,N-Phenethyl Dimethylamine (350mg), Caffeine Anhydrous (300mg), Di-Caffeine Malate (100mg), Caffeine Citrate (50mg), Halostachine (50mg), Huperzine A (35mg), N-Isopropylnorsynephrine (25mg), Black Pepper Fruit Extract (10mg)
Effects: Extreme Energy, Euphoria, Focus, Strength
Flavors: Blood Razz, Mango Citrus, Death Wish, Blue Razz
Price: $44.95
Servings Per Container: 20
Up third is Wrecked Enraged, a powerful, hard-hitting high-stimulant pre workout. It features potent ingredients to fuel high-intensity workouts, helping users stay in the zone and maximize their performance.
Unlike many other products, Wrecked Enraged focuses solely on supercharging energy levels, focus and providing an intense boost of motivation for workouts.
Even though Wrecked Enraged hasn't been on the market for that long, it has collected nearly a thousand positive reviews. That should tell you a lot about the effectiveness of this option!
All these reviews back up its extreme potency that has helped them push through heavy, demanding workouts. If you're looking for a pre workout for men that packs a punch, we definitely recommend you check out Wrecked Enraged.
Highly effective formula
Extreme long-lasting energy
Kicks in very fast
Supports strength and power
Taste and mixability are great
No pump ingredients
Only four flavors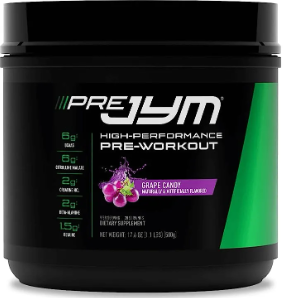 Active Ingredients: Citrulline Malate (6000mg), L-Leucine (3000mg), Creatine HCl (2000mg), Beta Alanine (2000mg), Betaine (1500mg), L-Isoleucine (1500mg), L-Valine (1500mg), L-Tyrosine (1500mg), Taurine (1000mg), Caffeine Anhydrous (300mg), Alpha GPC (150mg), Black Pepper Extract (5mg), Huperzine A (50mcg)
Effects: Energy, Focus, Strength, Endurance, Recovery
Flavors: Black Cherry, Grape Candy, Pineapple Strawberry, Tangerine, Strawberry Kiwi, Rainbow Sherbert, Pink Lemonade
Price: $41.99
Servings Per Container: 20
The fourth product featured on our list of best pre workout for men is Pre JYM by JYM Supplement Science.
Pre JYM was created by Jim Stoppani, a well-known fitness expert and author, who formulated the supplement based on his experience as a trainer and researcher.
It contains a combination of ingredients that are specifically chosen to enhance various aspects of athletic performance, such as endurance, strength, and muscle pumps.
One of the unique features of Pre JYM is that it does not contain any proprietary blends, which means that the exact amount of each ingredient is listed on the label.
This transparency can be beneficial for users who want to ensure that they are getting a clinically effective dose of each ingredient.
The combination of scientifically supported ingredients, optimal dosages, and the expertise behind its formulation make Pre JYM a trusted choice for men who are serious about optimizing their pre-workout routine.
Smooth and balanced benefits

Available in multiple-sized containers

Backed by many positive user experiences

No crash once the effects wear off

Includes ingredients to stimulate muscle recovery
It uses Citrulline Malate

One serving is 70 calories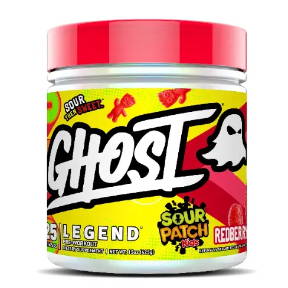 Active Ingredients: L-Citrulline (4000mg), Beta Alanine (3200mg), Nitrosigine (1500mg), L-Tyrosine (1000mg), Taurine (1000mg), Alpha GPC (300mg), Natural Caffeine (250mg), Theobromine (100mg), Senactiv (50mg), AstraGin (50mg), Rauwolfia (1.5mg)
Effects: Focus, Energy, Power, Pump
Flavors: Blue Raspberry, Peach, Sonic Ocean Water, Swedsh Fish, Welch's Grape, Sour Patch Kids Redberry, Warheads Sour Melon, Sonic Cherry Limeade
Price: $44.99
Servings Per Container: 25
The fifth spot gets taken by Ghost's Legend. It's known for being a well-balanced pre workout that boosts multiple aspects of a workout.
That means you'll notice improvements in energy, focus, and pumps, which will help you get the most out of each training session.
Some of the key ingredients in Ghost Legend include Caffeine, L-Citrulline, Beta-Alanine, and L-Tyrosine. All of these ingredients are dosed optimally, meaning you're actually going to notice the effects.
In addition to its performance-enhancing benefits, Ghost Legend Pre-Workout is known for its unique flavors and packaging. The supplement comes in various flavors, including sour watermelon, fruit punch, and blue raspberry.
If you're looking for a pre-workout that'll support every part of your workout, plus has good taste, don't hesitate to check out this option!
Improves focus, energy, and pumps

Vegan-friendly (soy, gluten, and sugar-free)

Transparent label that fully discloses each ingredient

Uses high-quality ingredients

Unique flavors to choose from
Advanced users may want something stronger

Mixed opinions on some flavors being too sweet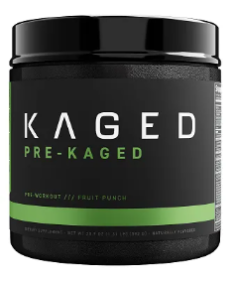 Active Ingredients: L-Citrulline (6500mg), L-Leucine (4750mg), BetaPower (2500mg), Taurine (2000mg), Carnosyn Beta Alanine (1600mg), Creatine HCl (1500mg), N-Acetyl-L-Tyrosine (1000mg), L-Isoleucine (875mg), L-Valine (875mg), L-Tyrosine (850mg), Coconut Water Powder (500mg), Organic Caffeine (274mg), Spectra (100mg)
Effects: Pump, Focus, Hydration, Power, Recovery
Flavors: Pink Lemonade, Grape, Fruit Punch, Krisp Apple, Cherry Bomb, Orange Krush, Berry Blast
Price: $44.99
Servings Per Container: 20
Pre Kaged is a top-quality, well-rounded pre-workout that is widely regarded as one of the best on the market. There are multiple reasons why Pre Kaged made it to our list of best pre workout for men.
It contains a potent blend of ingredients, improves performance, and provides sustained energy throughout a workout. That's exactly what you should be looking for in this type of supplement.
Pre Kaged contains a combination of caffeine, beta-alanine, citrulline, and Creatine, which have all been scientifically proven to boost energy, endurance, and strength.
In addition to its effectiveness, Pre Kaged is also a good pre-workout supplement because it is free from artificial colors, flavors, and sweeteners. You're getting a natural, high-quality product to crush your workouts repeatedly.
Great list of ingredients to boost performance

Completely free of artificial colors, flavoring, and sweeteners

Includes Branched-chain amino acids (BCAAs) & Creatine

Wide range of flavors

Banned substance tested
It's only 20 servings

Mixed reviews on taste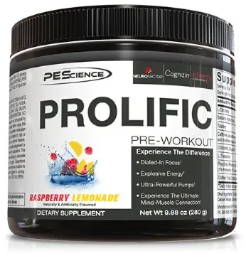 Active Ingredients: L-Citrulline (6000mg), Betaine Anhydrous (2500mg), Taurine (1500mg), Caffeine (320mg), Citicoline (250mg), L-Theanine (200mg), Rhodiola Rosea Extract (100mg), Coffee Fruit Extract (100mg)
Effects: Pump, Focus, Energy
Flavors: Black Cherry, Cotton Candy, Mango Splash, Melon Berry Twist, Raspberry Lemonade, Sour Green Apple, Strawberry Kiwi, Sour Peach Candy
Price: $34.99
Servings Per Container: 20
Coming in at number seven is Prolific by PEScience, a popular pre workout formulated with science-backed ingredients to enhance athletic performance.
You'll find all the essential staple compounds in this product. It even combines two forms of caffeine to provide you with smooth, long-lasting energy. Of course, you'll also notice better pumps, focus, and power.
It's also important to know that, unlike many other pre workouts on this list, Prolific doesn't have any Beta Alanine in it. That means you won't notice the tingling sensation on your skin.
Overall, PEScience's Prolific is a great pre workout supplement that'll carry you through intensive workouts. The taste and mixability are also on point, meaning you're getting a solid product that won't disappoint.
Boosts your workout performance

It uses both caffeine anhydrous and caffeine di-malate

Good flavor range and taste

Excellent mixability
It doesn't contain a lot of nitric oxide boosters

You have to double-scoop to get a whole serving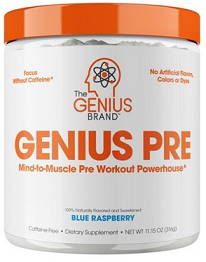 Active Ingredients: L-Citrulline Malate 2:1 (6000mg), CarnoSyn Beta Alanine (2000mg), Betaine Anhydrous (2000mg), L-Tyrosine (1000mg), L-Aeginine (1000mg), Taurine (1000mg), Alpha GPC (600mg), HICA(500mg), ElevATP (150mg), Rhodiola Rosea Extract (100mg), Theobromine (30mg), AstraGin (25mg), Huperzine A (10mg)
Effects: Focus, Power, Endurance, Pump
Flavors: Grape Limeade, Sour Apple, Blue Raspberry, Sour Cherry
Price: $37.99
Servings Per Container: 20
Last but absolutely not least is Genius Pre by The Genius Brand. This all-natural caffeine-free pre-workout aims to boost your cognitive functions, pumps, and endurance.
It's filled with quality nootropics and other ingredients to ensure you get the most out of your training sessions. One thing that'll stand out is the focus aspect; this pre-workout gets you concentrated and locked in.
This all while containing zero caffeine or other stimulants. It's going to provide natural, smooth energy without any jitters or crash. Perfect for late-night training sessions!
Genius Pre Workout avoids artificial flavors and sweeteners and has no unnecessary fillers. You know what you're getting, and it's a clean, high-quality natural pre workout!
Boosts cognitive functions

Contains many potent ingredients

Free from artificial flavors and fillers

No jitters or crash
No significant energy boost
Limited flavor options
How We Chose The Best Pre Workout For Men

We know what you're thinking - how did we put together our list of best pre workout for men?
It was challenging. As you may already know, there are hundreds and hundreds of products out there.
We've spent a lot of time testing different options. During this process, we reviewed various criteria to see if the product could be added to our list.
Here are some of the most important criteria we looked at:
The first thing we look at in a pre workout is the ingredients. We look at which ingredients are included and how they come together as a formula.
You won't notice many benefits if your pre-workout doesn't use the proper ingredients. But, if it combines the right, powerful ingredients, it will be a game-changer for your entire workout.
You'll notice it in every aspect of your performance - energy, pumps, power, and even improved cognitive function.
Caffeine, citrulline, beta-alanine, and tyrosine are some of the most common and effective ingredients found in pre workout supplements.
Make sure to look for these high-quality, effective ingredients in the product you want to get your hands on.
After checking the ingredients, we looked at what dosages they came in. Your product can have great ingredients, but those ingredients will only be useful when paired with the correct dosages.
Taking the correct dosage of each ingredient ensures that users get the optimal benefit from the pre workout. If we found that a product was significantly underdosing, we did not include it in our list of best pre workout for men.
Price is also a factor to consider when choosing a pre workout supplement. You should always look for supplements that offer good value for your money. However, don't sacrifice quality for price.
Cheaper supplements may contain low-quality ingredients or ineffective dosages, which can do more harm than good. Look for reasonably priced supplements that offer good value for your money.
Taste also played a role in our selection process. Even though we find that the actual effects are more important than taste, we still considered it when choosing the best pre workout for men.
It's also important that a product has more than enough flavors to choose from. Everyone has a different preference for flavors, so you must have options.
It is also essential to consider the reputation of the brand. Choose a brand known for producing high-quality, safe, and effective supplements.
You can check online reviews and ratings to see what others say about the brand and its products. Avoid brands that have a history of producing low-quality supplements or have a lot of negative reviews.
You should also look for pre workout supplements that are manufactured in a facility that follows good manufacturing practices (GMP). This ensures the product has been tested for purity, potency, and quality.
Best Pre Workout For Men Ingredient Breakdown

While putting together this list of the best pre workouts for men, we looked at one important factor: the ingredients.
The reason why ingredients are crucial is that they determine the potency and effectiveness of a pre workout. If it doesn't combine the correct type of ingredients, there's a high chance you won't experience much at all.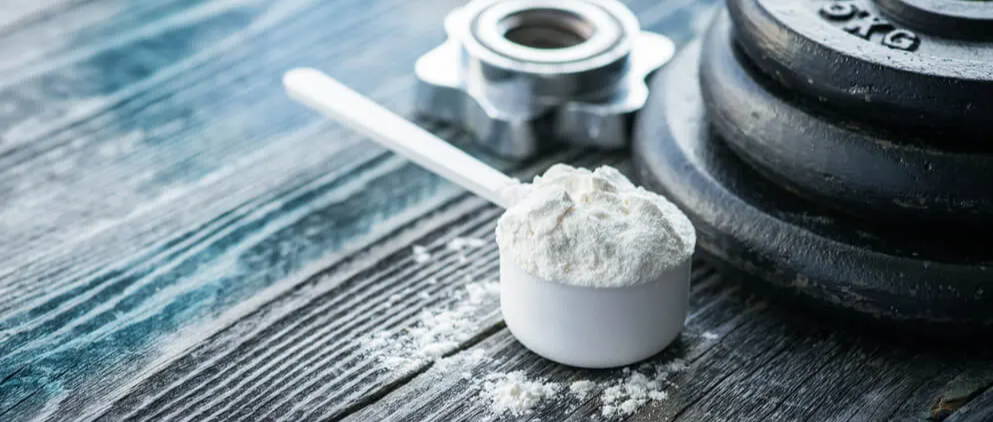 That's why we went out of our way to ensure the pre workouts in this article contain high-quality, more importantly, scientifically backed ingredients to supercharge your gym performance.
We've compiled a list of the most beneficial ingredients to help you understand why they are added to pre workout supplements.
Most of the best pre workout for men contain L-Citrulline due to its potential benefits for physical exercise and athletic performance.
Studies have suggested that taking L-Citrulline may improve blood flow, giving users a more effective workout and boosting their endurance.
Additionally, L-Citrulline may help with oxygen delivery, nutrient delivery into the muscles, and mitochondrial energy activity. This will also help you get more intense muscle pumps.
Another common ingredient you'll often come across is Beta-Alanine. It's mainly known for improving athletic performance and reducing exercise fatigue.
Studies have shown that supplementing with beta-alanine can help increase muscle carnosine concentrations, improving endurance and performance in high-intensity exercises.
This ingredient is also widely known for causing what is known as the Beta alanine itch. Additionally, beta-alanine has been shown to lower fatigue and improve sprint speed and exercise capacity.
Caffeine is a staple ingredient found in pre-workout supplements because it has been shown to provide numerous benefits to athletes.
Research has shown that caffeine can boost energy levels, sharpen focus, and improve mental alertness, leading to improved performance during workouts.
All these benefits can significantly impact overall performance during workouts, helping you get the most out of each training.
Some people don't like to take caffeine, if that's the case for you, check out our article on the best caffeine-free pre workouts.
Betaine anhydrous is a crucial ingredient due to its ability to enhance strength, power, and endurance capacity, improving overall athletic performance.
Studies have shown that betaine anhydrous can help lifters complete more total reps in bench press workouts, pedal with more power in cycling workouts, and sprint for almost 40 seconds longer than subjects drinking just water.
Additionally, betaine anhydrous can help attract water into the muscle cells and improve cellular hydration.
L-tyrosine is another key ingredient that often gets added to pre workouts for men. The reason why it's a good addition is that L-Tyrosine is said to increase neurotransmitters dopamine and adrenaline levels.
It aims to reduce stress and improve memory, which are essential for a successful workout.
As you can see, there are a lot of different ingredients out there. The pre workout for men we've shown you in this article all use high-quality ingredients at the correct dosages.
If you're thinking of going with a different product not mentioned in our article, make sure to research what it contains. Know what you are buying!
You'll also often find that pre workouts contain Creatine because it has been shown to improve athletic performance during high-intensity, short-duration activities like weightlifting, sprinting, and jumping.
Creatine is a naturally occurring substance that is found in muscle cells and helps provide energy for muscle contractions.
Supplementing with Creatine can increase the amount of creatine stored in your muscles, which in turn helps produce more energy during short, intense bursts of activity.
This means that you may be able to lift more weight, perform more reps, or sprint faster than you would without creatine.
The Benefits Of Taking Pre-Workout

Pre-workout supplements have gained immense popularity among fitness enthusiasts, athletes, and individuals seeking to optimize their exercise performance.
These products are specially formulated to enhance physical and mental capabilities, allowing users to push their limits during workouts and achieve their fitness goals more effectively.
Here are some of the benefits you may expect from taking a pre-workout supplement:
One of the primary reasons individuals turn to pre-workout supplements is the immediate boost in energy they provide. Most pre-workouts contain stimulants like caffeine, which act on the central nervous system, leading to increased alertness, more energy, and reduced fatigue.
By tapping into these energy reserves, users can exercise with greater intensity and for longer durations, allowing them to go all out during a workout session. Ultimately, this will lead to more significant progress in strength and endurance.
Improved Focus and Mental Clarity
Maintaining focus and mental clarity is crucial to achieving a successful workout session. Pre-workout supplements often contain nootropic ingredients that work synergistically with caffeine to enhance cognitive function.
This combination helps individuals stay more engaged during workouts, improving mind-muscle connection and better exercise performance.
Enhanced Physical Performance
Beyond mental improvements, pre-workout supplements can directly impact physical performance. Ingredients like beta-alanine, creatine, and citrulline are commonly found in these products and have been extensively researched for their performance-enhancing properties.
For example, Beta-alanine helps buffer the build-up of lactic acid, delaying muscle fatigue, while creatine enhances muscle strength and power output. Citrulline improves blood flow, reducing muscle soreness and increasing exercise capacity.
Improved Blood Flow and Nutrient Delivery
Pre workouts for men often contain ingredients like L-citrulline, which act as precursors to nitric oxide (NO) production in the body. Nitric oxide is a potent vasodilator, meaning it relaxes and widens blood vessels, promoting improved blood flow to working muscles.
With enhanced blood circulation, muscles receive more oxygen, blood, and other essential nutrients for energy production and muscle function. This increased nutrient delivery supports better exercise performance, muscle pumps and reduces the risk of premature fatigue.
What You Must Know About Pre Workout For Men

Pre workouts are undoubtedly one of the most effective supplements to supercharge your workout performance.
But if you are new to these supplements, there are important factors to consider before incorporating pre-workout supplements into your routine. Here's what you must know:
Pre-Workout Timing & How To Take
Knowing when to take your pre-workout is important, as you want to reap its full effect when starting your training.
When you take a pre workout, it takes about 30 minutes on average for your body to absorb the ingredients. We recommend taking it about half an hour before starting your workout session.
But several things may affect how quickly you'll notice the effects. Here are the two most important things that play a role in how fast your pre workout kicks in:
Empty or full stomach

- an empty stomach will allow your pre workout to kick in much faster than a full stomach. The fuller you are, the slightly longer it may take to notice the effects.

Product formula -

a pre workout containing many stimulants will be noticeable much faster than one that doesn't have them. This is because stimulants such as caffeine and rauwolscine are very effective at boosting energy.
Generally speaking, the effects of pre workout last for roughly 2 hours.
Your body can develop a tolerance to certain ingredients in pre-workout supplements, particularly stimulants like caffeine. Over time, you may find that the same dosage of a pre-workout supplement doesn't have the same impact as when you first started using it.
To prevent potential tolerance or dependency, don't take pre workout every time you train, and consider cycling on and off pre-workout supplements.
By limiting use and taking breaks, you'll be able to keep your tolerance where you want it to be.
Once you've gotten your hands on a quality pre workout for men, it's essential to use it safely and responsibly.
Start by safely assessing your tolerance. Many pre workouts contain potent stimulants, which can cause adverse effects when you take too much of them.
That's why, with each pre workout, you take just half of the recommended dosage to see how your body reacts to all the different ingredients. By doing so, you won't have to worry about overstepping it and taking too much.
From there on, you can slowly build your way up to a full serving. But remember, do not exceed the product manufacturer's dosage guidelines. If you have any underlying medical conditions, you should consult with your doctor before taking any type of pre workout.
Final Thoughts: Best Pre Workout For Men

Pre-workout supplements can be a great addition to your training routine if you're looking to boost your physical performance. They can increase your energy, power, focus, and muscle pumps.
But with so many options on the market, choosing the right product for you can be challenging. In this article, we've outlined our top 8 pre-workout supplements for men, based on various criteria such as ingredients and dosages.
Each of these products we've shown you has unique benefits and can help you during your fitness and bodybuilding journey. Review each product in this article and pick the one you feel best suits you.
However, it is important to remember that pre-workout supplements should be taken in moderation. Always make sure to safely assess your tolerance before taking a new supplement.
---